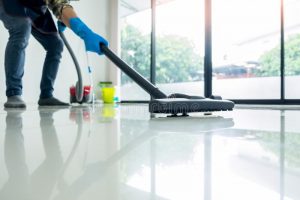 Which qualities of a janitorial services team matter the most? Although you see many choices in Schaumburg, IL, not all are worth calling.
How do you make the best decision for your local small business? The best way to find reliable custodians is to contact us first.
DJR Cleaning provides superior custodians throughout the community every day. Continue reading to learn what separates us from all the rest.
Simplified Cleaning Estimates
A red flag when choosing a cleaning service is a complicated bid. If you can't tell what they are selling, why should you buy?
Some Schaumburg companies feel like difficult estimates are somehow better ones. In the end, you must know what it is you're paying for and why.
We keep all of our estimates simple and easy for everyone to understand. Only pay for the options you need by hiring our local professionals.
Trustworthy and Confidential
A business keeps plenty of confidential documents around for both staff and customers. That means you can't risk having anyone sneaking around after hours.
Security cameras alone aren't enough to prevent wandering eyes from finding trouble. You need a reliable source for professional custodians like ours.
No matter what type of facility you operate, we keep them all clean. Hire our trustworthy janitors for your business at affordable prices.
Professional Training Measures
How often do you wonder how much training someone received before cleaning your office? After watching for a few moments, it's clear that it wasn't much.
Even smaller communities like Bloomingdale deserve to see professional janitorial services. When you can't risk hiring the wrong crew, you need our experts.
We take the time to ensure everyone receives customer-forward training before dispatching them. Make sure you choose the best custodians around for your business.
Licensed and Insured Janitors
Some companies think they do not need to pay for insurance to offer cleaning services. However, office cleaning is a process that can lead to many different injuries.
You can twist an ankle, wrist, neck, or back while cleaning an office. When they do get injured, the liability often falls on you, the owner.
You need a dedicated group of bonded and insured custodians. Hire the best team for any job and contact our janitors today.
Professional Communication Skills
Time and again, poor communication is blamed for problems in the workplace. This pitfall is not limited to just your clients, but your contractors as well.
When custodians find a concern, you expect that they will bring it up to you. When they don't, it can mean paying to restore the space instead.
We know how vital proper communication is for your local company. We do our part to keep you informed of any questions or problems we find.
See the Best Qualities of a Janitorial Services Team with Ours
When you need professional cleaners you can trust, you need ours. Hire DJR Cleaning to maintain your business.