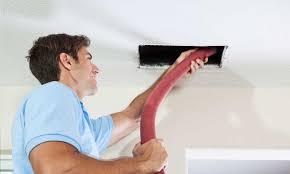 Most people don't believe hearing that they have dirty vents in their homes. They wonder how air duct cleaning helps you stay energy efficient in Medinah, IL.
Soon, they see our point after we have cleared away their ductwork. At DJR Cleaning, we take your HVAC system to task with specialized equipment and cleaners.
When you deserve service you can depend on, you need our custodians. Hire us now to take care of your dirty vents and prevent the problems from forming.
Less Equipment Strain
Who doesn't love a trip to scenic Bensenville now and again? Your heating and cooling equipment for one, as these visits bring debris home.
As your vents become clogged, it forces machinery to work harder than before. Now it has to get air to press forward through dust, dirt, and pollen.
You may find that your heat pump freezes often, or little air pressure exists. Clearing the way takes the extra load off your motors and fans.
Fewer Run Cycles
For our region, the Rosemont area sees some pretty warm temperatures. When it already feels like your AC never stops, something else is wrong.
Dirty ventilation means trapping humidity, making rooms uncomfortable, and forcing HVAC systems online. Over time, this causes the system to overwork, wearing them out.
Decreasing the number of run cycles will prevent your equipment from breaking down. Prevent maintenance calls and feel cooler inside with our technicians.
Cleaner Mechanical Components
When you get dirty, you feel your pores clog with sweat and debris. Surprisingly, your heating and cooling systems experience something similar.
Over time, dust builds up around blower fans, motors, and electrical components. Not only will that interrupt connections, but it could become hazardous as well.
Keeping these systems cleaner will help them to perform more efficiently as well. When your equipment seems sluggish, it could mean they are ready for maintenance.
Lower Indoor Humidity
Anyone living near Harwood Heights knows that humidity becomes a problem. Some days require frequent HVAC cycles to keep your home comfortable.
One way to have these systems run less often is by clearing dust. When your vents become clogged, they can trap air and prevent it from passing.
In the end, this can damage your equipment or even wear out vital parts. Contact us to keep your ducts from getting too dirty.
Improved HVAC Efficiency
When your HVAC turns on, it seems to run for hours. That can't possibly seem great for the mechanical portions or wiring.
The more often your system runs, the more likely something breaks down. You wind up seeing your systems run to fight humidity that gets trapped.
Dirty vents and motors will only work harder to keep up with clogged airways. Prevent your equipment from working overtime and hire our vent cleaners.
Dirty airways can soon lead to other maintenance items as well. Keep your home performing better with DJR Cleaning.