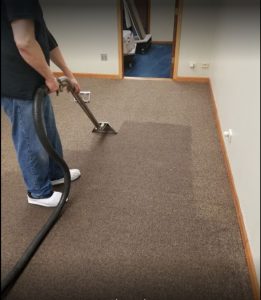 Carpet cleaning maintenance probably isn't at the top of your priority list. However, if you operate a commercial space in Naperville, IL, you may want to consider this service.
Keeping up with your floor cleanliness saves you money, as you can replace them less often. When you have carpet that continues looking new, it offers many benefits.
One of the ways that DJR Cleaning keeps the community clean is with maintenance services. Learn more about why you need us to prevent carpet concerns.
Improved Asset Preservation
One thing that every business owner in Bolingbrook needs is better asset preservation. It is often the things we use daily that are neglected the most.
Your carpet floors are no exception, as maintenance greatly extends their service life. Although these materials are often advertised to last a decade, most wear out sooner.
The result is temporarily closing your business to tear out and replace floors every few years. Contact us to keep your carpets maintained and lasting longer than ever.
Scheduled Care and Upkeep
Some days seem to zoom by faster than others around Fox Valley. Once you respond to every call, text, and email, there isn't much time left.
Unfortunately, ignoring your carpets' stains, tears, and bunches doesn't eliminate them. It takes a dedicated maintenance team to keep them looking better.
When you choose a professional service provider, it means hands-free upkeep. Contact us now to begin designing your floor's best maintenance system.
Industry Recommended Care
According to InterNACHI, you will likely get around eight years of use from carpets. That doesn't take into account other lingering building maintenance items, though.
Higher levels of humidity, pollen, and contaminants can wear out carpets sooner. When you maintain your floors by industry standards, it means getting more from them.
Regular janitorial service is a small price to pay when compared to unexpected replacement costs. If you need to watch every cent, carpet maintenance becomes worth the effort.
Service Warranty Compliance
You patted yourself on the back for purchasing the extended service warranty package. However, when it's time to use it, stores want documentation.
For many business owners, the warranty cannot be applied without a certified contractor. It can leave your flooring stuck in limbo, leaving them worn and dirty.
You can rely on us to keep your carpets at their best for longer. Contact us and begin designing your personalized maintenance system at low costs.
The Best Carpet Cleaning Maintenance Provider in Naperville, IL
It may sound counterintuitive, but carpet maintenance systems pay for themselves. Giving your floors a little attention goes a long way to preserving them.
Who has the time to shut down entire sections of their office? It is always best to prevent the need for replacements.
It takes an experienced cleaning provider to make the most of your plans. Make sure you choose the top ones around and contact us now.
Stop spending more than you should on your office floors. Hire us at DJR Cleaning today.