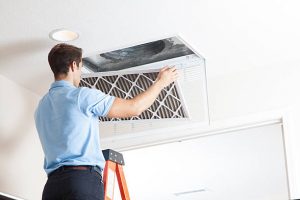 Do you keep wondering what that smell or rattling noise is? We look for five signs your Elk Grove Village property needs air duct cleaning.
If your home or commercial space has any of these symptoms, contact us. DJR Cleaning is your trusted choice for cleaning services throughout the Chicagoland community.
From muggy bedrooms to dirty living spaces, there are several telltale signs. Hiring us means selecting the company that knows to look for them all.
Visible Dust Plumes
When you live near Des Plaines, you have many options for outdoor recreation. You can visit a lake, the river, historical sites, and much more.
Once you return home, the dust and debris from the outdoors can collect in your air vents. Eventually, it gets backed up enough to spit out clouds of dust with the air conditioning.
If dust bunnies are spilling out of your vents, you need them professionally cleaned. Contact us now to leave your ducts free from harmful contaminants.
Recent Home Renovations
As a historic part of the country, many Franklin Park residents renovate their homes. However, doing so will create plenty of surface dust that travels through the air.
Wood sawdust, gypsum board, and loose fibers all get trapped in your HVAC. You may want to change out your filter, even if you have recently done so.
Some construction debris seems too fine to capture, while others are rough on fabrics. Cleaning out your air ducts is the first step in keeping your home healthier.
Sickly Family Members
Even though some family members might have allergies, they all seem worse. Everyone keeps sniffling, sneezing, and rubbing their eyes whenever they are inside.
You might have recently cleaned your home, but it still seems dusty. The problem is pollutants and allergens continue to spread through your vents.
When you have pets living indoors, the issue can become worse. Make sure you hire us to keep your family free from air contaminants.
Persistent House Odors
After a day at the waterpark in Wood Dale, you can't wait to get home. When you walk in, it smells old and musty rather than clean and inviting.
Even though you spent hours sprucing the place up, it never seems to feel any fresher. It could be the surfaces you can't reach, keeping your house smelly.
Clogged vents and ducts are also full of pollen and dust mites. Clearing them away helps to prevent lingering odors.
Higher Utility Bills
Each month your power bill seems higher than the one before. Although you keep up with turning off lights, you only spend more money.
Dirty airways in your ventilation system may be to blame for your expensive utility bills. These dusty surfaces can clog your equipment, forcing them to work harder.
When that happens, your system can't cool your home as efficiently. The smarter choice is to hire us for air duct cleaning services.
It takes experienced contractors to offer true ventilation cleaning. Call DJR Cleaning for results.