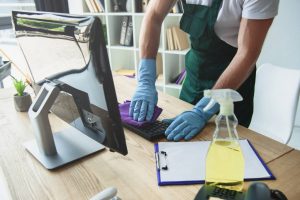 You can ask your staff to stay and clean only so many times. Eventually, they will wonder why you haven't hired janitorial services in Elk Grove, IL.
It is worth hiring professionals, even if you are concerned about the cost. It takes a reliable source for cleaning to see expert results.
DJR Cleaning is the trusted name in local janitorial service contractors. See why business owners and residents alike turn to us.
Improved Office Productivity
You thought a trip to Itasca would offer your staff a welcome reprieve. But the next day, everyone still seems sluggish and distracted.
The culprit is likely lingering air pollutants keeping everyone feeling sickly. Allergens, bacteria, viruses, and other contaminants keep your staff under the weather.
Worst of all, the entire office smells musty, lowering morale even more. A fresher building makes for clearer heads and better productivity, so contact us today.
Fewer Employee Call-Ins
Sometimes it feels as though everyone is burning through their sick days. Unfortunately, when people go home to their children, they often pick up germs.
You can find many schools throughout Mt. Prospect, increasing the risk. From preschoolers to high schoolers, there are many shared germs.
Hiring professional janitors that use antibacterial products ensures a safer office space. Give your staff a healthier place to work with our local custodians.
More Professional Environments
Few things will turn away customers and partners like lingering odors. Add in cobwebs, carpet stains, and surface dust, and all your customers will see is a filthy office.
This becomes a direct reflection of the owner and managers. A fresher, more welcoming environment is perceived as a professional one as well.
To keep both your customers and your employees happy, consider using professional cleaners. Hire our janitorial services today for your local small business.
Less Office Clutter
Some days, it feels like your office has shrunk overnight. When you can't even turn around without knocking things over, it's time for cleaning.
Clutter not only takes up space but can make your staff agitated. In addition, it does nothing to improve your image with those walking inside.
The first move in keeping clutter at bay is to contact us. See why business owners throughout Chicagoland prefer our custodians.
Healthier Staff Members
While you already know that we can prevent call-ins, what about daily health? By maintaining a cleaner working environment, your employees will also be at their best.
You will not only notice fewer sick days, but better performance as well. When your staff remains healthier, they stay happier too.
Chances are, you won't hear about as many weekends spent sniffling on the couch. Give your team the best office possible and contact us now.
Hire the Best Janitorial Service in Elk Grove, IL
We believe that everyone deserves a fresher place to spend their time at work. Choose DJR Cleaning today for affordable cleaning services and experienced custodians.